Guidelines for Writing a Bachelor's Thesis
Points to take into account while writing your bachelor's thesis
The topics you can choose for your bachelor's thesis should be highly relevant for practice and policy and the thesis should to be empirically grounded. The bachelor's thesis can be written in German or English.
Process of a bachelor's thesis
Selection interview and choice of a topic as well as registration for the project seminar.
After successful completion of the project seminar, Prof. Leišytė will write a letter to "Prüfungsverwaltung" to declare that she will be your supervisor.
Write the thesis: in the process, make sure to send the questionnaire for surveys or interview schedules to Prof. Leišytė to get approval before you start your empirical work.
Submit to "Prüfungsverwaltung", Dez. 4.3.
July 15 to August 1 for the following winter semester
February 15 to March 1 for the following summer semester
Type and time frame of the bachelor's thesis
Generally, all bachelor's theses at the Professorship are empirical (i.e. the self-organized collection and analysis of data is part of every thesis). This type of thesis has a time frame of 13 weeks (for details see the Prüfungsordnung).
In exceptional cases, theoretical bachelor's theses are accepted. The specific topic must then be discussed and agreed on with Prof. Liudvika Leišytė. The time frame for this type of thesis is only 9 weeks.
The time frame (count of weeks) starts with the registration of your topic (a letter from Prof. Leišytė to the Prüfungsamt).
Topic of a bachelor's thesis
The topic you choose should relate to the main research fields of the Professorship of Higher Education.
Possible Topics:
Governance
Stakeholder representation and their characteristics in the boards of non-profit organizations
Diversity Management and gender equality in management teams
Factors leading to innovation success in professional organizations
The influence of board membership on performance of professional organizations
Management of organizational change in professional organizations
The role of chancellors in German higher education
Entrepreneurship
The role of student entrepreneurs in creating startups on campus
Characteristics of German entrepreneurs
Entrepreneurship and gender: differences between male and female entrepreneurs
Motivations of academic entrepreneurs to patent their knowledge
Policies of German universities to promote knowledge commercialization
Policies and practices of patenting in Germany
Profession, Performance, and Mobility
Importance of work satisfaction of professionals for performance
Working at home versus working in the office – implications for productivity
The motivations for international mobility of professionals
Factors leading to successful integration of foreign professional employees in Germany
The role of performance based funding on academic productivity
Changing academic profession in the managerial era: what happens to professional autonomy
Bachelor's theses at the Professorship of Higher Education are accepted according to certain preconditions and according to capacities of scientific staff:
Location & approach
The facilities of TU Dortmund University are spread over two campuses, the larger Campus North and the smaller Campus South. Additionally, some areas of the university are located in the adjacent "Technologiepark".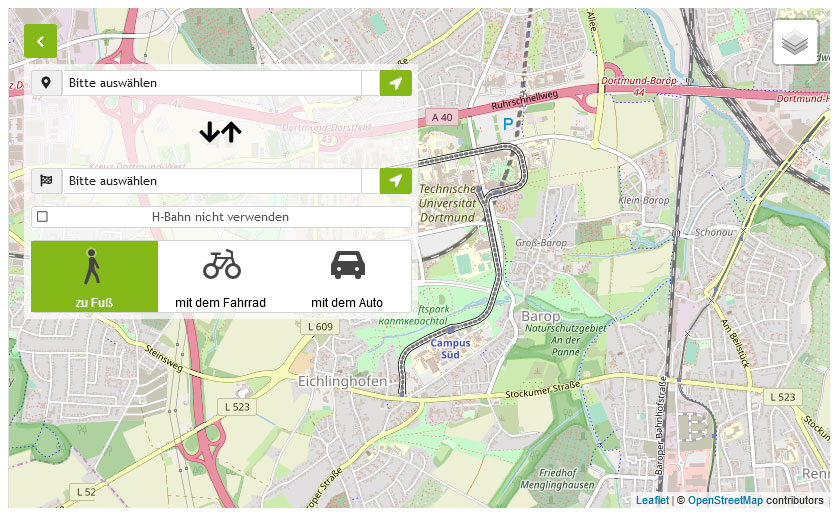 Zum Lageplan