Guidelines for Writing a Bachelor's Thesis
Points to take into account while writing your bachelor's thesis
Requirements for the registration of the bachelor's thesis in the examination regulations
Requirements Bachelor of Business and Economics:
"Das Thema für die Bachelorarbeit kann erst nach Erreichen von mindestens 120 Leistungspunkten ausgegeben werden." (§ 13(4) BPO 2019).
Requirements Bachelor Industrial Engineering:
"Die Bachelorarbeit kann nach dem Erwerb von mindestens 165 LP aus abgeschlossenen Modulen gemäß § 5 Absatz 3 aufgenommen werden. Voraussetzung hierfür ist, dass folgende Module bereits bestanden sind: a) Maschinenbau: Höhere Mathematik I-III, Mechanik I-IV, Thermodynamik b) Wirtschaftsingenieurwesen: Höhere Mathematik I-II, Technische Mechanik I-II, Systemtheorie c) Logistik: Höhere Mathematik I-II, Technische Mechanik I-II, Grundlagen der Elektrotechnik." (Kapitel II, § 16(1) Prüfungsordnung Stand 27.07.2020)
Location & approach
The facilities of TU Dortmund University are spread over two campuses, the larger Campus North and the smaller Campus South. Additionally, some areas of the university are located in the adjacent "Technologiepark".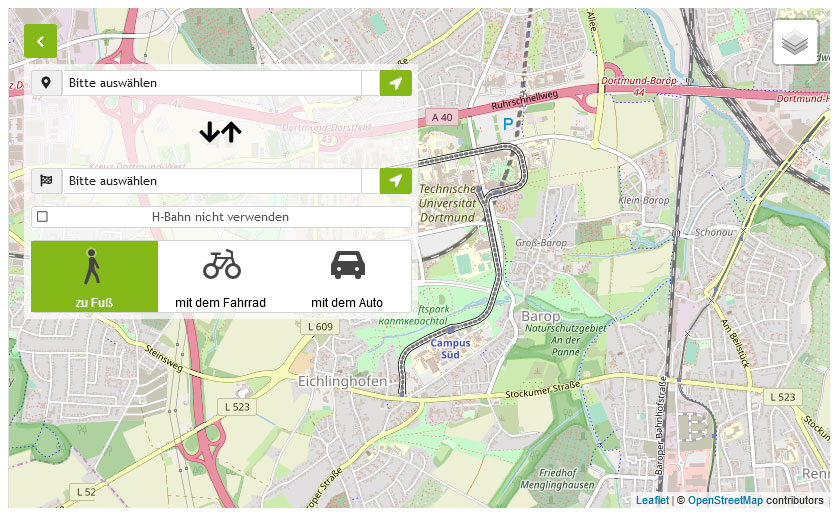 Zum Lageplan