Guest talk
Prof. Shaker A. Zahra
(University of Minnesota, USA)
Digital Technology and the Disruption of Global Business Ecosystems
Digital technologies have stimulated and enabled entrepreneurial activities around the globe. In this presentation, Prof. Zahra will discuss the intimate link between digital technology and entrepreneurship, paying special attention to its profound effects on the emergence and subsequent evolution of global business and entrepreneurial ecosystems. He will also highlight the role of digital technology as a powerful source of disruption of ecosystems, describing ecosystems that are likely to undergo such disruption and corresponding implications for international entrepreneurship. The presentation will also discuss the types and characteristics of companies that are likely to emerge as technological disruptors. Finally, Prof. Zahra will address the emergence of "unicorns" in digital-based global ecosystems and the exit strategies they follow.
Shaker A. Zahra is the Department Chair, Robert E. Buuck Chair of Entrepreneurship and Professor of Strategy in the Carlson School of Management at the University of Minnesota. He is also the Academic Director of the Gary S. Holmes Entrepreneurship Center. He has served also as the Academic Co-Director of Carlson Ventures Enterprises as well as the Founding Co-Director of the Center for Integrative Leadership at University of Minnesota. Previously, Shaker was Paul T. Babson Distinguished Professor of Entrepreneurship at Babson College and Professor of Strategy & Entrepreneurship at Georgia State University. He has been a visiting or guest professor at several universities in Europe, the Middle East and Asia. Shaker has also held the 3TU Chair in International Entrepreneurship at the University of Twente in the Netherlands.
Wednesday, 11 December 2019, 4.00–5.30 p.m. | Vogelpothsweg 78 (CDI building), room 114
Center for Higher Education (zhb)
Professorship of Higher Education
Location & approach
The facilities of TU Dortmund University are spread over two campuses, the larger Campus North and the smaller Campus South. Additionally, some areas of the university are located in the adjacent "Technologiepark".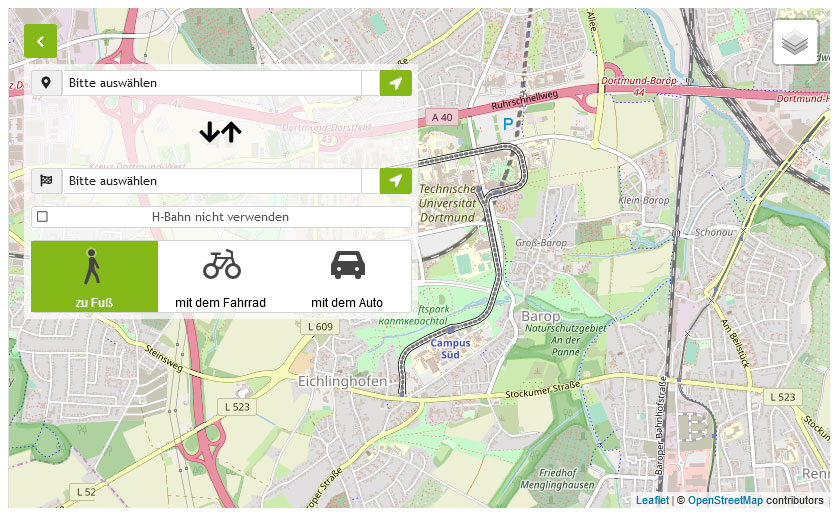 Zum Lageplan