Daiva Žostautienė, Dalia Susnienė & Liudvika Leišytė
CISABE'2016
6th International Conference on Changes in Social and Business Environment, April 28-29, 2016, Panevėžys, Lithuania

Žostautienė, D., Susnienė, D., & Leišytė, L. (Eds.). (2016). CISABE'2016. 6th International Conference on Changes in Social and Business Environment, April 28-29, 2016, Panevėžys, Lithuania. Pianoro, Bologna: Medimond.
ISBN 978-88-7587-738-5
Buruzs A., Torma A.: Reconstruction and Development of Date for Modelling Integrated Waste Management Systems
Katiliute E., Daunoriene A., Stankeviciute Z.: Design and implementation of university internal study quality management system
Lipinskiene D., Repeckiene A., Sciukaite K.: Intercultural Competence Development in the Context of Diversity
Kvedaraite N., Repeckiene A., Stanikuniene B., Zvireliene R.: The Obstacles of Lithuanian Higher Education Students' Integration into Labour Market: quantitative and qualitative approach
Mileris R.: Changes of economic dependency ratio in Lithuania: statistical perspective of 25 years
Perez J.J.: Social Responsibility as a transversal competence of graduates
Sunnetcioglu S., Atay L., Korkmaz H.: Eco-labelling at restaurants: case of green generation restaurants program
Susniene D., Zostautiene D., Sargunas G., Juzeniene E., Atay L.: Towards a better understanding of quality concepts and issues in higher education
Valackiene A.: Towards a Framework for Case Study Research: Methodology and Practical Implementation
Viederyte R.: Relative to Clusters Inter-organizational systems comparison: Case for Industrial sector performance
Zostautiene D., Susniene D., Zabarauskaite G., Serva R.: Evaluation of corporate social responsibility promoting factors
Location & approach
The facilities of TU Dortmund University are spread over two campuses, the larger Campus North and the smaller Campus South. Additionally, some areas of the university are located in the adjacent "Technologiepark".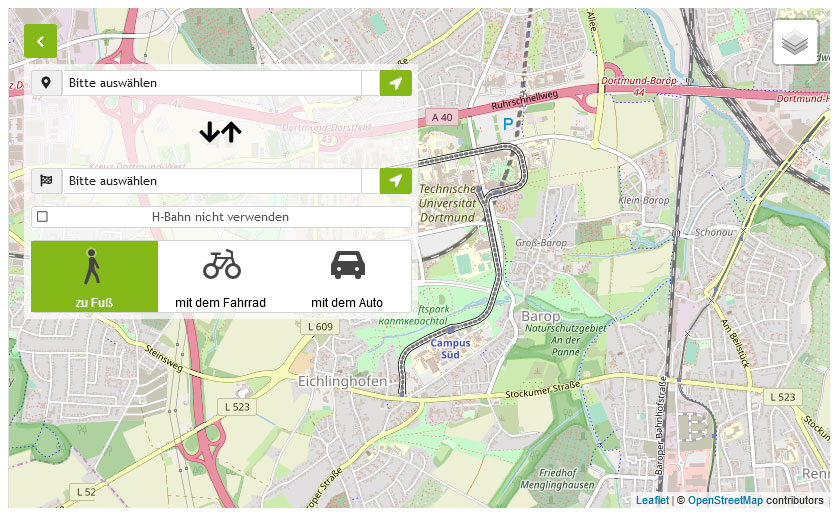 Zum Lageplan