Želvys, R., Leišytė, L., Pekşen, S., Bružienė, R., & Rose, A.-L. (2021). From collegiality to managerialism in Lithuanian higher education. Acta Paedagogica Vilnensia, 46, 27-42. https://doi.org/10.15388/ActPaed.2021.46.2
Waheed, M. & Leišytė, L. (2021). German and Swedish students going digital: Do gender and interaction matter in quality evaluation of digital learning systems?. Interactive Learning Environments. Advance online publication. https://doi.org/10.1080/10494820.2021.1965626
Leišytė, L., Deem, R., & Tzanakou, C. (Eds.). (2021). Inclusive universities in a globalized world [Thematic issue]. Social Inclusion, 9(3). Online available
Leišytė, L., Deem, R., & Tzanakou, C. (2021). Inclusive universities in a globalized world [Editorial]. Social Inclusion, 9(3), 1-5. https://doi.org/10.17645/si.v9i3.4632
Pekşen, S. & Leišytė, L. (2021, April 24). Mixing soft and hard power approaches to international HE. University World News. https://www.universityworldnews.com/post.php?story=20210420113433272
Pekşen, S. & Leišytė, L. (2021). Germany: Policies for internationalization. International Higher Education, (106), 15-16. https://doi.org/10.36197/IHE.2021.106.07
(This article has been translated into Chinese, Portuguese, Russian, Spanish and Vietnamese language.)
Baumann, S. & Leišytė, L. (2021). Changing research structures and academic staff competence in the Swiss non-traditional university sector. Higher Education Policy. Advance online publication. https://doi.org/10.1057/s41307-021-00231-3
Pekşen, S., Queirós, A., Flander, A., Leišytė, L., & Tenhunen, V. (2021). The determinants of external engagement of hard scientists: A study of generational and country differences in Europe. Higher Education Policy, 34(1), 18-41. https://doi.org/10.1057/s41307-020-00214-w
Leišytė, L., Dee, J., & Meulen, B. J. R. van der (Eds.) (2022, forthcoming). Research handbook on the transformation of higher education. Edward Elgar.
Broucker, B., De Wit, K., Verhoeven, J. C., & Leišytė, L. (Eds.). (2019). Higher education system reform: An international comparison after twenty years of Bologna. Leiden: Brill Sense. Contents and further information
Leišytė, L., & Wilkesmann, U. (Eds.). (2016). Organizing academic work in higher education: Teaching, learning, and identities. London: Routledge. Contents and further information
Žostautienė, D., Susnienė, D., & Leišytė, L. (Eds.). (2016). CISABE'2016. 6th International Conference on Changes in Social and Business Environment, April 28-29, 2016, Panevėžys, Lithuania. Pianoro, Bologna: Medimond. Contents and further information
Flander, A., Kočar, S., Ćulum Ilić, B., Leišytė, L., Pekşen, S., & Rončević, N. (forthcoming). Impact of internationalisation strategies on academics' international research activities: Case study of the three HE peripheries: Slovenia, Croatia and Lithuania. In M. Klemenčič (Ed.), From Actors to Reforms in European Higher Education – Festschrift for Pavel Zgaga. Springer.
Leišytė, L. (forthcoming). Per­for­mance management under surveillance capitalism in higher education. In C. Sarrico, M. J. Rosa, & T. Carvalho (Eds.), Research Handbook on Managing Academics. Cheltenham: Edward Elgar.
Leišytė, L. (2021). University spin-offs. In L.-P. Dana (Ed.), World encyclopedia of entrepreneurship (2nd ed., pp. 637-641). Cheltenham: Elgar. https://doi.org/10.4337/9781839104145.00081
Leišytė, L. & Peksen, S. (2020). Nationale Evaluationssysteme für Forschung in Hochschulen – Gender Bias im europäischen Vergleich. In I. M. Welpe, J. Stumpf-Wollersheim, N. Folger, & M. Prenzel (Eds.), Leistungsbewertung in wissenschaftlichen Institutionen und Universitäten: Eine mehrdimensionale Perspektive (pp. 13-41). Berlin: De Gruyter. https://doi.org/10.1515/9783110689884-002
Rose, A.-L., Leišytė, L., Haertel, T., & Terkowsky, C. (2020). Zur Bedeutung von Emotionen in der hochschulischen Entrepreneurship Engineering Education. In I. Isenhardt, M. Petermann, M. Schmohr, A. E. Tekkaya, & U. Wilkesmann (Eds.), Lehren und Ler­nen in den Ingenieurwissenschaften (pp. 129-143). Bielefeld: wbv Media. https://doi.org/10.3278/6004805w129
Waheed, M. & Leišytė, L. (2020). Scandinavian students' perspective on learning from digital learning environment: The potential role of interactive quality. In C. Urrea (Ed.), Proceedings of the MIT LINC 2019 Conference (pp. 262-268). EPiC series in education science, Vol. 3. Manchester: EasyChair. https://doi.org/10.29007/x9w8
Location & approach
The facilities of TU Dortmund University are spread over two campuses, the larger Campus North and the smaller Campus South. Additionally, some areas of the university are located in the adjacent "Technologiepark".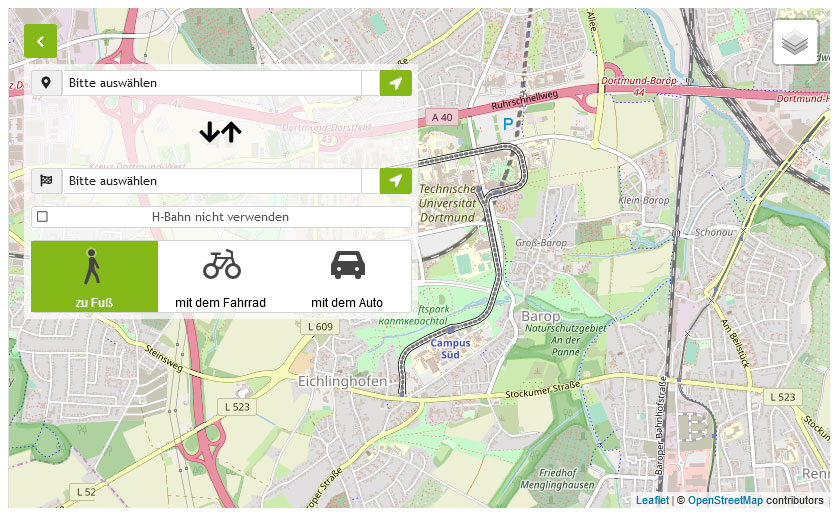 Zum Lageplan