STARK
Studierende als Akteur*innen des Wandels
Students as Actors of Change: The development of an innovative, research-based and student-centered flipped classroom module in the BA program in Business and Economics at TU Dortmund University
Within the STARK project, innovative hybrid teaching/learning formats are used to promote the scientific, social and digital competencies of students in the seminars "The Role of the University in Economy and Society" and "Diversity Management in Organizations" in Module 11 of the Bachelor's degree program in Business and Economics at TU Dortmund University. Furthermore, the module will be developed with regard to the competencies of the "21st century".
In both seminars, the teaching/learning format of cooperative research-based learning in a hybrid flipped classroom is used. This bridges the gap between the students' prior knowledge and the intended learning outcomes of the module, while at the same time it takes into account the heterogeneity as well as the motivation of the students. Individual learning paths will allow students to shape their learning process according to their prior knowledge and discipline-related interests. The self-determined and self-organized work on cooperative research projects and the involvement of the students in the exploration of liminal spaces in research-based learning also address the competencies of the "21st century".
Dr. Katrin Stolz (Head of the Department of Academic Teaching & Faculty Development)
Stiftung Innovation in der Hochschullehre | Freiraum 2022
Location & approach
The facilities of TU Dortmund University are spread over two campuses, the larger Campus North and the smaller Campus South. Additionally, some areas of the university are located in the adjacent "Technologiepark".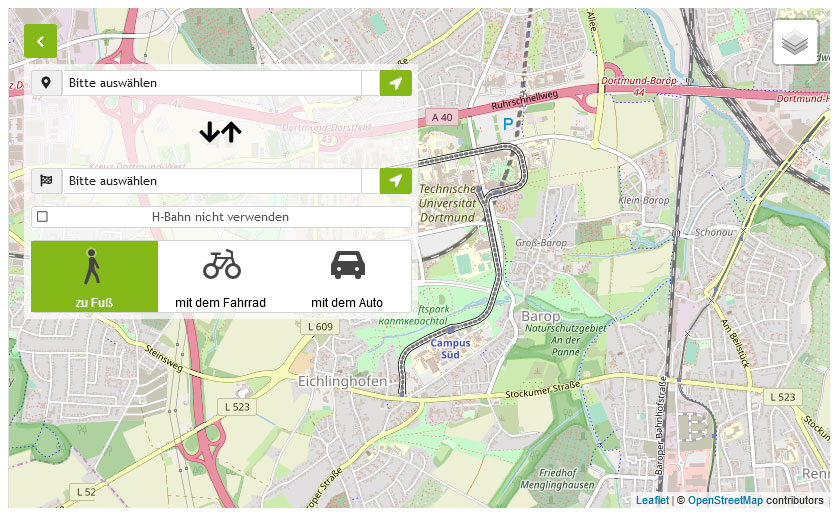 Zum Lageplan