Innovations- und Techniksoziologie I / II
Governance: Higher Education Governance
Degree Program:
Master Wirtschaftswissenschaften
Module:
Innovations- und Techniksoziologie I / II
Department:
Department of Business and Economics, Professorship of Higher Education
Lecturer:
Prof. Liudvika Leišytė
Credits:
EITHER Seminar: 5 ECTS
OR Tutorial (Übung): 2.5 ECTS
Time and Place:
Tuesdays, 2.15–3.45 p.m. (Start: 3 November 2020) | Online via Moodle and Zoom
Language:
The seminar language is English and presentation has to be made in English. Nevertheless it is possible to write the paper in German in consultation with the lecturer. Knowledge of English language has to be sufficient, but not perfect.
Today the importance of higher education has been underscored by policy makers at both European and national levels. Universities in particular are believed to play a key role in the future knowledge society and economy. The European Commission wants to mobilize Europe's brain power and modernize European universities. At the national level, governments aim to foster the creation of flagship universities. They are adopting and adapting the discourse of European higher education policy within their national settings to promote internationalization, and excellence of, and access to, higher education. In several European countries, these policy changes are coupled with the introduction of tuition fees and student financial aid systems, increased participation of external stakeholders in university governance, privatization, and a 'customer' orientation amidst a general 'massification' of higher education. These important developments pose numerous challenges to university governance and organizational transformation as they must maintain and improve the quality of both teaching and research. This seminar will provide an overview of the main higher education governance trends in Europe. In particular, it will focus on the main concepts of governance and management (accountability and autonomy), funding (changes towards performance based funding, student aid and tuition fees), and quality assurance (program accreditation and institutional evaluation) in higher education in different European countries. Based on extant literature the seminar will involve presentations, analysis and discussions of change processes at the policy and organizational levels.
The seminar will start with the lecture which will cover the main theoretical governance models of higher education. The topics for assignments and the suggested literature will be presented and students will choose the topics. Each of the seminars will have a presentation from students followed by a discussion.
All students are expected to actively participate in the seminar. Each of the sub-topics covered in the seminar will have compulsory readings. It is expected that students will work on the assignment, present it and participate in the discussions. The assignment will consist of a presentation on a given topic and an individual written 5000 words paper on a given topic. The number of participants of this seminar is limited to 20.
Seminar: Paper & Presentation (5 Credits)
Tutorial (Übung): Presentation (2,5 Credits)
To complete the module, two courses have to be completed, one as "Übung" (including a presentation), the other as a seminar (including a presentation and the submission of a seminar paper).
Location & approach
The facilities of TU Dortmund University are spread over two campuses, the larger Campus North and the smaller Campus South. Additionally, some areas of the university are located in the adjacent "Technologiepark".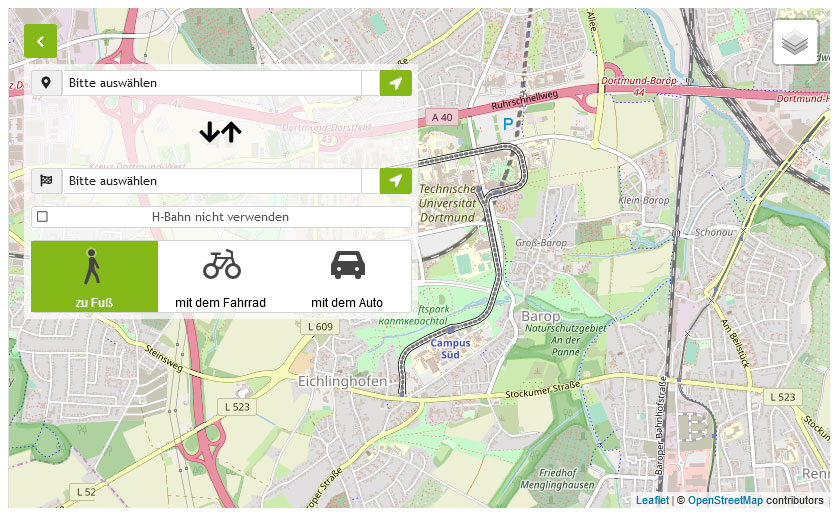 Zum Lageplan