Entrepreneurship IV
Entre­preneur­ship Trends
Academic Entrepreneurship and Applying Academic Entrepreneurship (Focus: Academic Entrepreneurship)
Degree Program:
Master Wirtschaftswissenschaften
Module:
Entrepreneurship IV
Department:
Department of Business and Economics, Professorship of Higher Education
Lecturer:
Seminar: Prof. Liudvika Leišytė
Tutorial (Übung): Sude Peksen, M.A.
Credits:
7.5 ECTS
Time and Place:
Seminar: Tuesdays, 10.00 a.m. – 12.00 p.m. (Start: 3 November 2020) | Online via Moodle and Zoom
Tutorial (Übung): Two-day tutorial, 12–13 November 2020, 10.00 a.m. – 5.00 p.m. | Online via Moodle and Zoom
Language:
The seminar language is English and presentation has to be made in English. Nevertheless it is possible to write the paper in German in consultation with the lecturer. Knowledge of English language has to be sufficient, but not perfect.
Today, universities are expected to be entrepreneurial and engage with industry and broader society, and entrepreneurship is seen as an engine for knowledge economies across the world. In this context the role of entrepreneurs at universities is emphasized. However, there is rather limited understanding on what types of entrepreneurship can be found at universities, what fosters entrepreneurship among students and academic staff, what bottlenecks do young entrepreneurs face in the university settings and how they can be solved, and what are the facilitating factors for promoting entrepreneurship in academia? This seminar will use the latest empirical as well as theoretical insights of entrepreneurship studies to address the main trends in academic entrepreneurship. The tutorial (Übung) will point to the practical aspects of academic entrepreneurship, especially including practicing pitching a business idea as well as developing the business idea further.
The seminar will start with a lecture which will cover the main theoretical models applicable for academic entrepreneurship. The topics for assignments and the suggested literature will be presented and students will choose the topics.
All students are expected to actively participate in the seminar. Each of the sub-topics covered in the seminar will have compulsory reading. It is expected that students will work on the assignment, present it and participate in the discussions. The assignment will consist of a presentation on a given topic and an individual written 5000 words paper on a given topic. The number of participants of this seminar is limited to 20.
Seminar: 4 Credits; task for getting a grade: presentation of the assignment and written paper
Tutorial (Übung): 3,5 Credits; task for getting the grade: active participation in the tutorial (Übung)
Location & approach
The facilities of TU Dortmund University are spread over two campuses, the larger Campus North and the smaller Campus South. Additionally, some areas of the university are located in the adjacent "Technologiepark".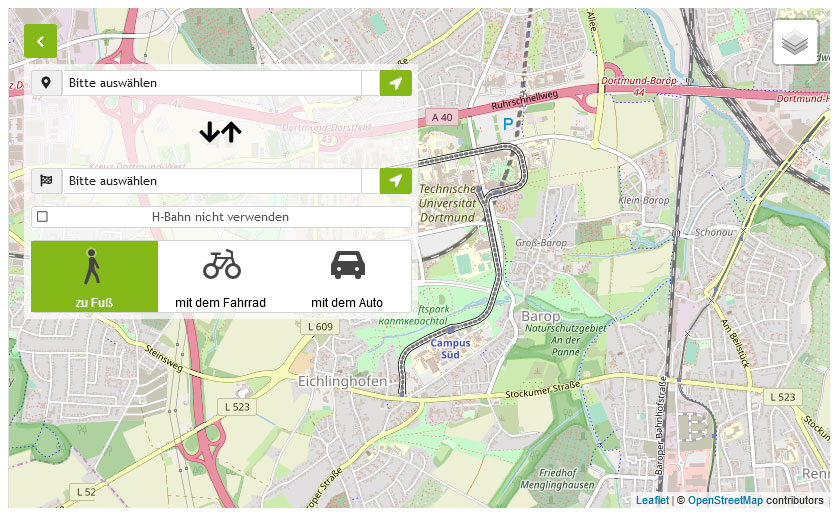 Zum Lageplan